January was a nice start to the year. I had a good trip to the Horseshoe-Bossier City and got fully rolled for 50NL on PokerStars without having to deposit anymore money. I wish that my earn rate at 50NL would have been higher, but a wins a win and a few of the losses that I took were unavoidable suckouts.
In a borish economist voice, "The chart is upward trending with a few rough patches at the end. It looks like we've found ourselves a winner."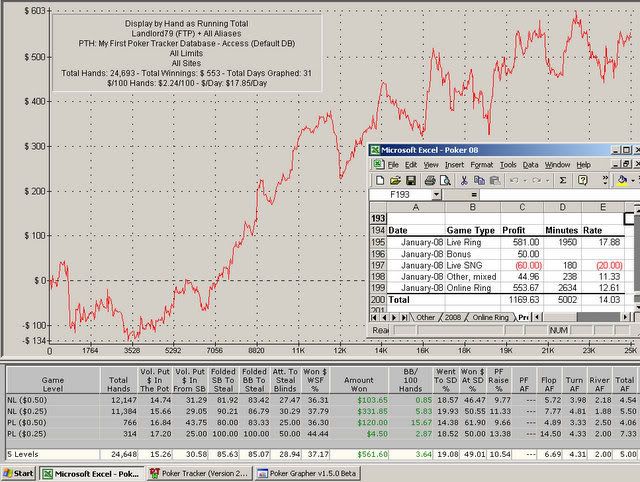 I will be taking a break from poker in February. It's not that I'm burned out or anything, I just need to put my priorities back into order.
My goals are to:
Reinvigorate my spiritual life.
Create new habits
1. A prayer time
2. Reading time
3. An exercise program
Purify my body, through a strict diet.
Retool my calendar so that I am doing things based on what is important, not what I feel like doing.
I recently bought Security Analysis by Benjamin Graham on audio CD, The Essays of Warren Buffett by Warren Buffett and Lawrence A. Cunningham, and No Limit Theory and Practice. I won't start reading NLT&P until March. I want to keep my mind clear and focused upon the long-term.