Catching Up
Sorry I haven't blogged in a while, I know some of you enjoyed my road to getting a dealing job. Now that I have it I am working 5 days a week a full 8 hours at a minimum, a lot of the time I am working overtime. I barely have the time an energy to put in an hour or two playing some NL25 on Stars. So my goal for this blog is to catch up a little bit on whats been going on in my life and talk a little bit on where I would like to be in the next few months.
Since I last wrote I was an On-Call poker dealer at the Showboat in Atlantic City. I worked really hard and also got really lucky to get promoted to Part-Time before my 90 day probation period was even up. I help out the supervisors a lot when I am on my breaks and I think they really appreciated it. I thought it was what we were suppose to do, but apparently I was going above and beyond what was expected of me.
Being Part-Time is a HUGE advantage on my shift. I start at 11am, which is basically the worst shift in our room because you deal more tournaments than cash games a lot of the time and we used to get forced out during the winters a lot. Because of this a lot of the dealers on the 11am shift with seniority moved to later shifts. This left me and a few others being the only part-timers which means we HAVE to be the last dealers to go home each night. It's like a quasi-raise.
I also bought a new car. I got a 2005 Honda Civic EX. It's really sick on gas, but since I got it a week ago I don't have any pics. I love the car and it was much much needed. It was really hard writing a check for 1/2 of my life's savings for something that will only depreciate in value, but I needed a reliable car.
New Room
For those of you who don't know, the Showboat now has a new poker room. We moved in early March to the back of the casino right along the boardwalk. We have windows with an ocean view and 28 tables. There is a ton of room between the tables now and the room overall has a really nice feel. I looked everywhere for pics, but couldn't find them. We are doing much, much better as far as traffic goes but the room has not been advertised much other than word of mouth. I have been working super hard to build some word on 2+2 about the room and the response has been good. Let's hope things get better in the future.
Online Poker
I have been on a pretty good heater of late. I was a small small winner at the micro stakes until recently. I just felt like everything clicked lately. I will post my graph from the last 5 months which is pretty weak, but I feel like very soon I am going to start taking my first shots at NL50 and a chance to start supplementing some income with online poker.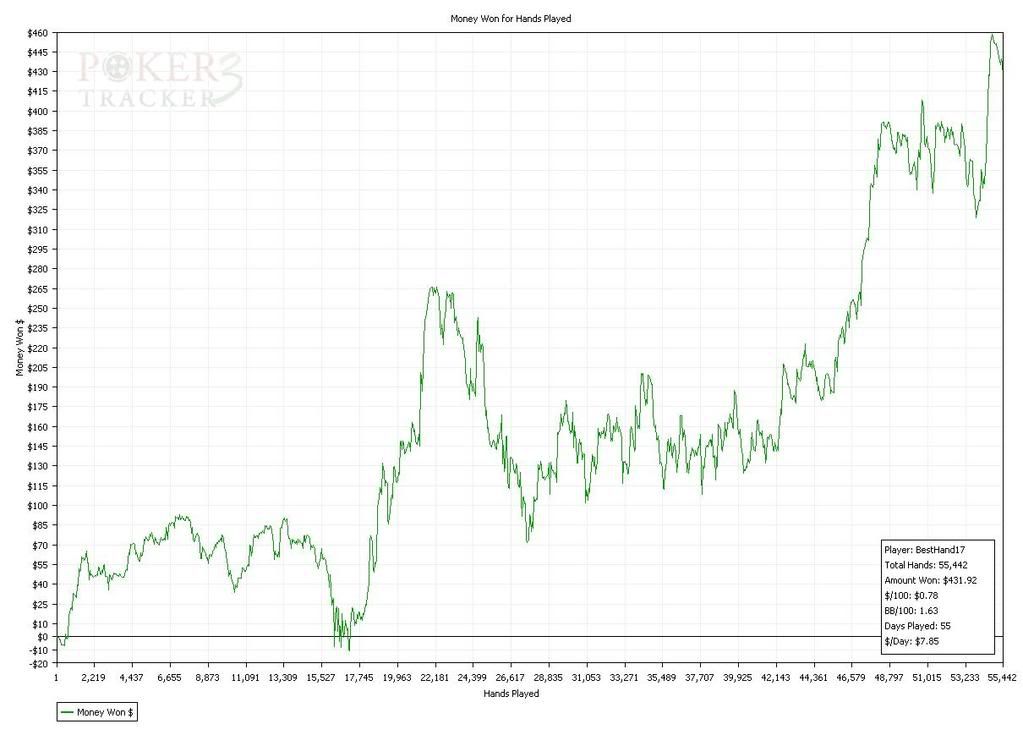 Summer Goals
I am one of those types that loves to set goals in order to motivate myself to work harder. I really have some big plans for my future and a lot of them are relying on my ability to do well in the online NL cash games. I am planning to have a completely new computer setup on the way. I have to work out exactly what I want in it and stuff and then purchase and build the thing. I am really excited about that, and just saving money. I really want my next big purchase to be a condo or a small home. In order to do this I really need to start getting my grind on playing poker online and working really hard on my dealing techniques in order to make as much money as I can this summer. As far as dealing goes I am really working on making only motions that I have to make, I want to save as many seconds I as can, thus dealing as many hands per down as possible. As far as online poker goes, I need to be a little less lazy after coming home from a long day at work and put in 500-1k hands. I th ink when the new computer comes I am going to work harder cause it's going to be pretty expensive so I will have to make the purchase worth it.
Thanks for reading guys, I hope to get some pics of the new poker room and updating some of the AC poker room reviews on the site in the near future if I can find some time.