I took a trip to the
Horseshoe Bossier City
this month, once again I was unsuccessful in bluffing the live donkeys. I've gotta quit trying to do that. One guy called me down on the river w/ pocket 3s when I tried to rep a flush that had gotten there on the turn. It seemed like an easy laydown for him to me, but he had a feeling that he was good.
I also got set over set and the bad thing was that I knew it too! I still paid off the $120 on the river because "you can't fold sets." The guy couldn't have played his set any more obviously. A huge pfr from the blinds into a multiway, limped pot. A donkey calls so I feel obligated to call w/ my 4s and stack the donk. The flop comes A
Q
4
and the big preflop raiser from the blinds checks his hand. The donk checks, my radar shows bogies approaching but I make the obligatory bet of $50 into the $75 pot to see if the blind raiser is trapping. Sure enough he calls and the donkey folds. (This was not going how I intended it.) I check behind on the turn and on the river he pushes out $120 which I call since I can't fold a set. He shows me a set of Queens and I'm kicking myself for being a 2+2 bot! At least I saved $60 by not pushing on the river. (sigh)
On a happier note!
Other than that, my month went really well. I stuck my hand into the HU universe and played ~1k hands of HU 50NL this month, netting me $220. I can't say that I'm very good at HU, I think that mostly I ran goot. I did find that HU on UB is very effective in collecting the RAISE points that determine how fast you earn your deposit bonus. You only get RAISE points when you put money into the pot, therefore at FR you get points infrequently.
I also made the move to FR 100NL this month on Pokerstars as I indicated in my previous blog post. I was a month or so behind pace on this based on my December and early January estimates, but I'm there now and loving it. I was very surprised to see some of the 50NL regs that I had been battling also playing at the 100NL games. Seems that a dozen or so of us made the move together.
Speaking of the players that moved up: Props to Learning Curve on 2p2 for 2 solid months in a row which has allowed her to make the move to 100NL. She battled the micros for a long time and has really been a student of the game. She's an awesome cheerleader and motivator on the forums and I am uber excited about her success as a player!
PLO, once again, seemed evasive this month. I definitely feel that PLO will be the next big poker game to infatuate the masses. I'm trying to learn it but the price of learning seems expensive and when I consider the opportunity costs of not playing FR NLHE I just can't make myself play PLO that much.
Here are my results for April and goals for May:
Apr Goals:
Earn Gold Star Bonus
Forgone for Platinum bonus in May
Maintain Silver Star on PS
Even better, I made GS again
Focus on earning my dep bonus + rakeback at UB
Did okay w/ this, HU FTW on this bonus
Reduce the number of tables that I'm playing so that I can focus on BB/100 (making 1.3BB/100 sucked last month)
6.4 BB/100 FTW!!
Post a positive month.
A++++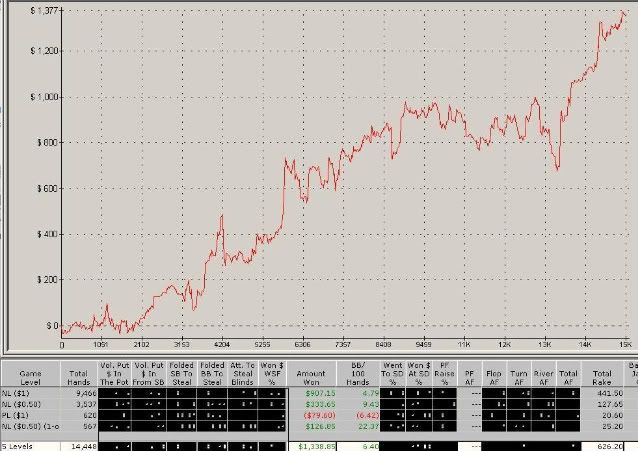 ($245.00) Live Ring
$135.00 Bonus
$6.00 Rakeback
$5.00 SNG
($69.58) PLO
220.40 HU 50NL
1,160.61 Online FR
$1,212.43, $23.36/hr
May Goals:
Make Platinum Star and buy the bonus
Play at the new poker room at the Ameristar Vicksburg opening Memorial Day weekend!