I feel like I'm playing a lot better over the last few months than I had ever been, and results are finally starting to show up. I've put in more volume than I can really afford to over the last week, considering the amount of school work that I have piled up in front of me. I finished a major assignment at about 9:40 pm Wednesday night and decided against starting my next paper right away, instead firing up some tourneys.
This of course led me to noticing that Wednesday was turbo night on full tilt, so needless to say I played anything and everything that I could afford to play. I ended up playing like 7.5 hours, well in to the morning, and having a net profit of $-6 after bricking a bunch of stuff and making a deep run in one tourney, eventually taking a really disappointing 14th place.
Today I got home from class and planned on starting the paper that I have due this coming week. I did about half an hour of reading, wrote the introduction (which I'm probably going to end up scrapping since it sounds funny), and then firing up more tourneys. Things started kind of shoddy, but I picked up stacks in 3 tourneys (though I 4-bet JJ and ran in to KK in one of them).
I held a chip lead in the UB 5Kg from 39 players down to 12, when TT<A5o and AA<A2s on back to back hands got me short (I may have misplayed the AA one as I flatted a shorty's cutoff raise from the button and the sb ended up coming along and outflopping me, but whatever. A small mistake magnified is still a small mistake, and I ran bad for that hand), and then ended up shoving 86ss from the sb and bricking everything on 9s7x7x4sKx to lose to AJ to bust in a heartbreaking 9th place, which doesn't get me anywhere near out makeup.
Busting that one left me with just one tourney left, which happened to be the ftp 1r. 11 handed I hold a chip lead and 3 bet a monkey with 77 from the sb, he flats (for some reason), and we see a flop of Q43. I lead 99k in to a pot of 167k, and snap call his shove of ~240k more. He clearly has KJo and rivers the J. I make the mistake of telling him how bad he is in the chat (stacks and ICM were def. supposed to be considerations here, as well as the outright atrocity of his shove), but whatever, it should get me spite calls later. I'm left with 22 bb's, and soon bust a guy after my AT>88 to get back to healthy. I come in to the FT with 40 bb's and 4/9.
The chip leader busts 2 people in the first 2 hands to get us 7 handed. ~10 hands later a guy is crippled and moves his last 4.5 bb's in from UTG+1. Chip leader is to my right and flats from the button, and I shove KK for 28 bb's total, which I feel is a mistake, given the fact that 1) it;s a 1r, 2) He's the chip leader, and 3) he's got to be feeling pretty invincible; and therefore I should have made it like 145k (5k/10k blinds) and string him along. Instead I jammed for like 277k or w/e. He folded and I held over the shover.
I got down to 3 handed relatively easily, with the idiot from above having a 3:2 chip lead over me and slightly more than that over the guy to my direct right. CL offers some idiotic chop, so I just reject it and ask to play it out. I pick up JJ on the button 2 hands later and raise to ~52k at 12k/24k with like 920k behind. SB is the chip leader, who instantly jams his 1.4MM. BB gets out of the way, and I fold after thinking about it for about 15 seconds. SB shows QQ. Nice try.
A few hands later I get it in with the guy to my right after he raises, I 3-bet and he 4 ball jams A6o for like 28 bb's. I call with AQs and we chop on A28K8. After this hand, the CL offers a deal slightly less retarded than the one previous, to which I obviously reject again. He spits something out about how he's tired and we should take the deal, so I obv tell him to offer a better deal if he wants us to take it so badly. He tells me to go fuck myself and that he's the chip leader so we should accept his deal (I'm paraphrasing-- I think what he said was something that actually was less coherent than what I just gave him credit for saying, and I believe he was demanding our obedience), but anyhow, we keep playing much to his shagrin. I suggest he relax and bust me so he can rub it in my face, saying "you should have taken the deal" or something like that but all I get is a friendly "STFU".
2 hands later, CL min-raises the button, sb calls, I jam 66 for 33 bb's assuming that the CL will call me super wide, but he folds quickly. SB covers me by 1.5 bb's and calls off with 44 like a huge fish, and I hold to get hu with a 2 bb disadvantage.
This guy decides to offer a chop again. This one was pretty close to even, but I feel my edge is way too big to chop, so I let it go, and proceed to get out-carded like crazy. I can remember 3 different hands in which I was value betting 2nd pair or better, only to be outkicked, as well as getting most of the chips in with 97 on J77Q2 only to be shown down K7, yet he somehow managed to not get all the chips in the middle, despite us only being 35 bb's effective.
The after the 97 debacle, I shove my last 8 bb's in with A9s and lose to J7o on 65557, just to confirm that (if we take the JJ vs. QQ hand, as well as the 77<KJ hand from above in to consideration) I actually had no chance at all to win this tournament, and that 2nd was as good
as I possibly could have ever done given the way the cards were dealt.
Whatever, I'm pretty close to having enough money to pay off my open liquor fine and still have enough money left over to eat and party and pay rent and buy christmas presents without completely decimating my FTP account, which is rather appealing.
I wish I could time my heaters better; as in when I don't have a bunch of schoolwork. I'm planning on playing a billion tourneys/sng's over the christmas break, but I have plenty of schoolwork and exams before then, so I don't really know when I'll be able to play much between now and then, which kind of stinks, since I typically go on streaks of getting deep in something or other a bunch of times over a period of 10 sessions in a row and then getting cold again and whining about it for 4 months.
OH! Did I mention that mouthbreather's OPR? No, of course not.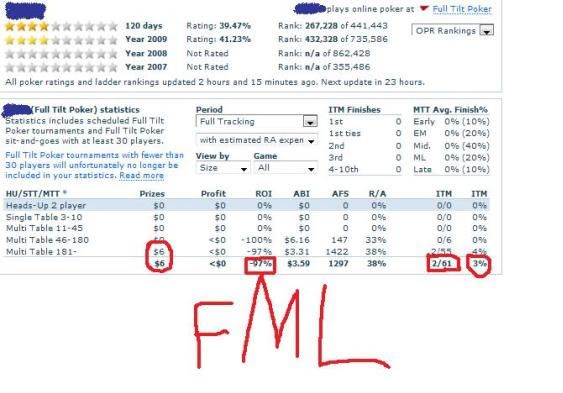 I just lost HU to a fish with $6 in lifetime cashes.
-grady